Featured Vacation Rental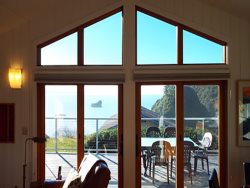 Lovely Home Overlooking Trinidad Bay
Trinidad Bay Vacation Rentals
Stunning California Coastal Village
Vacations on the
Redwood Coast
"No Sailing Directions are required for this anchorage. It is perfectly safe from May to October and will be found of importance as a Harbor of Refuge for vessels that may have suffered on their way North from the strong head winds that generally prevail along the coast during these months."
Reconnaissance of Trinidad Bay, California
U.S. Coast Survey, 1851
Trinidad Bay and its environs lure outdoor adventurers and leisure travelers alike. Whether you want to scale towering redwoods on a canopy tour, learn to sea kayak in the coastal treasure of the northcoast, climb rock walls surrounded by unspoiled beauty, mountain bike through Redwood National Park, or simply enjoy a picnic on a beach, Trinidad's location is truly ideal! Explore paradise...
Kayak Trinidad

| | |
| --- | --- |
| Location: | Trinidad Bay and Big Lagoon |
| Url: | View Website |
| Phone: | (707) 329-0085 |

Adventure Fitness

| | |
| --- | --- |
| Location: | Trinidad Area |
| Url: | View Website |
| Phone: | 7078450644 |

Biking

| | |
| --- | --- |
| Location: | Miles of paradise to explore! |
| Url: | View Website |

Old Growth Redwoods

| | |
| --- | --- |
| Location: | Roughly 50 miles long, the parklands stretch from near the Oregon border in the north to the Redwood Creek watershed southeast of Orick, Calif. |
| Url: | View Website |
| Phone: | 707-465-7335 |

Trails in Trinidad

| | |
| --- | --- |
| Location: | Directions to trailhead: From Highway 101, take the Trinidad exit and drive 0.25 mile west through town to Stagecoach Road. Turn right (north) and pull into the main Trinidad State Beach parking area on the left. Elk Head access is located another 0.75 mile up Stagecoach Road. |
| Url: | View Website |
| Phone: | (707) 677-3570 |

Redwood Creek Buckarettes

| | |
| --- | --- |
| Location: | [email protected] / P.O. Box 417 Orick, CA 95555 Location: 1000 Drydens Rd, Orick, CA 95555 |
| Url: | View Website |
| Phone: | 707-499-2943 |

Golf at Beau Pre Club

| | |
| --- | --- |
| Location: | 1777 Norton Road McKinleyville, CA 95519 |
| Url: | View Website |
| Phone: | (707) 839-2342 |

Klamath River Jet Boat Tours

| | |
| --- | --- |
| Location: | North of Trinidad about 45 minutes. P.O. Box 947 Klamath, CA 95548 |
| Url: | View Website |
| Phone: | 707-482-7775 |
| Toll Free: | 1-800-887-JETS |

Six Rivers Rafting

| | |
| --- | --- |
| Location: | Willow Creek |
| Url: | View Website |
| Phone: | 707599-4221 |

Redwood Adventure Tours

| | |
| --- | --- |
| Location: | 7 Valley Green Camp Road Orick, California 95555 [email protected] |
| Url: | View Website |
| Toll Free: | 1-866-733-9637 |

Trinidad Museum

| | |
| --- | --- |
| Location: | 400 Janis Court at Patricks Point Dr, Trinidad, CA |
| Url: | View Website |
| Phone: | 707-677-3883 or 707-677-3816 |