Featured Vacation Rental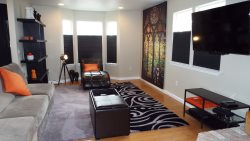 Luxury Modern Villa in upscale Arcata
Trinidad Bay Vacation Rentals
Stunning California Coastal Village
Vacations on the
Redwood Coast
"No Sailing Directions are required for this anchorage. It is perfectly safe from May to October and will be found of importance as a Harbor of Refuge for vessels that may have suffered on their way North from the strong head winds that generally prevail along the coast during these months."
Reconnaissance of Trinidad Bay, California
U.S. Coast Survey, 1851
Guest / Concierge Services
Trinidad Vacation Rentals
California Homes For Rent
Trinidad Bay Vacation Rentals' (TBVR) properties are all equipped with basic home amenities; refer to individual property descriptions for a full list of provided items. TBVR property managers offer 20 years of local experience. We are happy to share our adventures with you. Putting a personal touch on our business is what we do best. Please feel free to ask questions regarding the local area guide. We also offer wine, water, and flowers as options for your stay available during reservation process. Our focus is providing the guest with an exceptional vacation experience. We are always looking to improve standards and service within our means. If there is something we can do to make your stay any more enjoyable, please let us know.