Featured Vacation Rental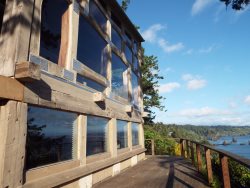 World Class Trinidad Bay Harbor Views
Trinidad Bay Vacation Rentals
Stunning California Coastal Village
Vacations on the
Redwood Coast
"No Sailing Directions are required for this anchorage. It is perfectly safe from May to October and will be found of importance as a Harbor of Refuge for vessels that may have suffered on their way North from the strong head winds that generally prevail along the coast during these months."
Reconnaissance of Trinidad Bay, California
U.S. Coast Survey, 1851
Besides trips to the many beautiful beaches and parks in Trinidad, there are other activities for children in and around town, such as tide pooling, park, easy hikes and playground.
Humboldt State University Marine Lab

| | |
| --- | --- |
| Location: | P.O. Box 690 / 570 Ewing Street Trinidad, California 95570 [email protected] |
| Url: | View Website |
| Phone: | (707) 826-3689 |

Trinidad Museum

Located off Main Street and Patrick's Point Drive at the entry way to the charming coastal village of Trinidad, is a newly rehabilitated circa 1899-1900 Victorian Italianate bungalow. There are Native American exhibits featuring the redwood canoe carved from one log by Axel Lindgren, exquisite Indian baskets, implements, regalia and a magnificent mural painted by Susan Morton of the old Tsurai Village site above Old Home Beach. Other rooms feature natural history, historic photographs from the Katie Boyle and Gwyneth Susan collections and a Heritage Room recreating an early twentieth century kitchen.
Location:
400 Janis Court at Patricks Point Dr, Trinidad, CA
Url:
View Website
Phone:
707-677-3883, 3816 or 0716

Trinidad Library

Trinidad Library- Brand New Recently opened. Next door to the Museum. The Humboldt County Library provides resources and opportunities to support lifelong learning, local heritage, and the cultural, recreational, and information needs of our communities. Toddler Story Time Every Thursday at 10:00 a.m. Stories, songs, and sometimes puppets! All preschoolers and their families are welcome. Summer Reading at Trinidad Library the adventure continues through the summer. Bring in your reading log any time before school starts and receive a book prize! Pajama Story Time Stop by at 6:00 p.m. on the last Thursday of each month for this relaxing evening story time. Children are encouraged to wear pajamas and bring a stuffed animal. The Book Buddies meet on the second Thursday of each month, at 11:00 a.m. Need some recommendations for new books to read? Want to share a great new read with someone? This casual community gathering discusses books, shares recent reads, and offers new suggestions of titles to read. No mandatory reading is required, just a love of reading. Stop by!
Location:
Trinidad
Url:
View Website
Phone:
707 677-0277

Redwood National Park Bike/Walk Days

| | |
| --- | --- |
| Location: | Prairie Creek Redwoods Visitor Center, Redwood National Park |
| Url: | View Website |
| Phone: | (707) 465-7335 |

Trinidad School Playground

| | |
| --- | --- |
| Location: | 300 Trinity Street, Trinidad, CA |
| Url: | View Website |
| Phone: | (707) 677-3631 |