Featured Vacation Rental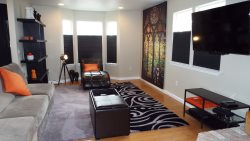 Luxury Modern Villa in upscale Arcata
Trinidad Bay Vacation Rentals
Stunning California Coastal Village
Vacations on the
Redwood Coast
"No Sailing Directions are required for this anchorage. It is perfectly safe from May to October and will be found of importance as a Harbor of Refuge for vessels that may have suffered on their way North from the strong head winds that generally prevail along the coast during these months."
Reconnaissance of Trinidad Bay, California
U.S. Coast Survey, 1851
There are quite a few restaurant choices for the visitor of the greater Trinidad area on the Redwood Coast, including fine dining, cafes, and homestyle cooking locales. Many places boast ocean views of some of the most spectacular coastlines in California.
Larrupin` Cafe

| | |
| --- | --- |
| Location: | P.O. Box 657, 1658 Patrick's Point Drive, Trinidad, CA 95570 |
| Url: | View Website |
| Phone: | 707-677-0230 |

Moonstone Grill

| | |
| --- | --- |
| Location: | 100 Moonstone Beach Road Trinidad, CA 95570 |
| Url: | View Website |
| Phone: | 707.677.1616 |

The Lighthouse

| | |
| --- | --- |
| Location: | 355 Main Street, Trinidad, CA 95570 |
| Url: | View Website |
| Phone: | 707-677-0077 |

Trinidad Bay Eatery and Gallery

| | |
| --- | --- |
| Location: | 607 Parker Rd, Trinidad, CA 95570 |
| Url: | View Website |
| Phone: | 707-677-3777 |

The Beachcomber Cafe

| | |
| --- | --- |
| Location: | 363 Trinity Street, Trinidad, California |
| Url: | View Website |
| Phone: | 707-677-0106 |

Seascape Restaurant

| | |
| --- | --- |
| Location: | The base of Trinidad Head, next to the Seascape Pier |
| Url: | View Website |
| Phone: | 707-677-3625 |
| Toll Free: | 1-800-684-2464 |

Sunset Restaurant

| | |
| --- | --- |
| Location: | 27 Scenic Dr. Trinidad, CA 95570 |
| Url: | View Website |
| Phone: | 707-677-3611 |
| Toll Free: | 1-800-684-2464 |

Six Rivers Brewery

"A Brew with a View", Six Rivers Brewery's menu includes a variety of delicious specials and microbrews. See the sun set over the ocean, listen to live music, watch a game, have a drink with friends, and enjoy some great brewery eats.
Location:
1300 Central Ave. McKinleyville, CA 95519
Url:
View Website
Phone:
707-839-7580